GyaO airs "Ouran High School Host Club" SP drama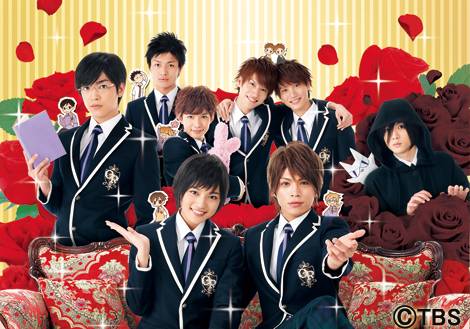 Kawaguchi Haruna
's first starring drama, "
Ouran High School Host Club
", broadcasted a special video via video hosting site, '
GyaO
',
on July 15th (JST) at midnight. The special broadcast featured an open
talk session with the eight main actors from the drama, and was
incorporated into a special footage segment titled, "
Episode Zero
".
The manga of the same name by
Hatori Bisco
is a
popular series that sold approximately 12 million copies in total. The
drama is set at a wealthy high school – Ouran High School -, and focuses
on
Fujioka Haruhi
(Kawaguchi) who attends the academy
as scholarship student. However, she accidentally knocks over an antique
vase and becomes a 'male host' to pay off her debt. Other cast members
include
Yamamoto Yusuke, Nakamura Masaya, Daitou Shunsuke, Takagi Shinpei, Takagi Manpei, Chiba Yudai
, and
Ryuusei Ryou
.
The SP drama spotlights the encounter between the host club members
and Ouran High School's female students; the sub-regular members of the
drama, such as
Ogawa Momoe, Hiromura Mitsumi, Higashi Ayu, Seino Nana
, and
nicola
,
also made appearances on the "Episode Zero.". The SP story ended at
Haruhi's arrival and the drama will pick up the story from there.
The SP was featured on GyaO's
official site for this drama
and other affiliated websites.
The drama will start airing on the 22nd.
Check out the promotional pictures below!
Source & Images:
Oricon News
Credits:allkpop.com