Takimoto Miori and Johnnys idols to star in Japanese remake of "You're Beautiful"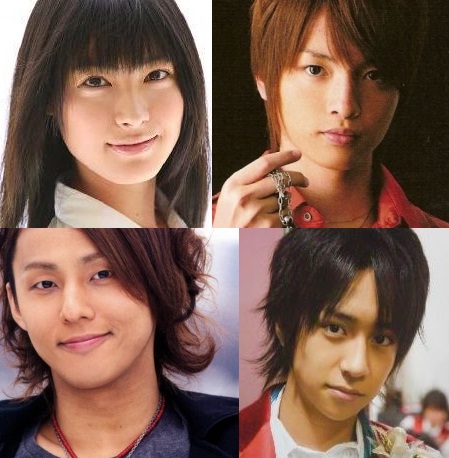 The cast of the Japanese remake (top left, clockwise) Takimoto Miori, Tamamori Yuta, Yaotome Hikaru, and Fujigaya Taisuke.
It was revealed today that the popular 2009 Korean drama "
You're Beautiful
" will be remade in Japan! Set to start airing in July on
TBS
's Friday 10pm slot, the remake will star actress
Takimoto Miori
,
Kis-My-Ft2
's
Tamamori Yuta
,
Fujigaya Taisuke
, and
Hey!Say!JUMP
's
Yaotome Hikaru
.
The Japanese remake has been in the works since last spring and the
story will be based heavily on the original, with the female lead
joining the band
A.N.JELL
while pretending to be her brother and ending up caught in a "love square" with the other three members.
Takimoto, who starred in last year's
NHK
Morning Drama "
Teppan
",
will play the lead in a commercially broadcast drama series for the
first time. In one scene in the remake, she will have to cut around 30cm
of her long hair. Takimoto remarked, "
If I'm going to play a boy
anyway, I want to play a good looking guy, and want to be thought of as
handsome by my own gender. I hope the guys from Johnny's will tell me
the secret to being seen as handsome and boyish
."
The male leads Tamamori, Fujigaya, and Yaotome are all starring in drama series for the first time.
Tamamori, who will play the role originally portrayed by actor
Jang Geun-suk
, commented, "
In the original series, (Jang Geun Suk's) facial expressions were vivid, so (I) want to properly do that part.
"
Fujigaya and Yaotome commented respectively, "
We all want to follow our dream with all our strength so that (the drama) can become a representative work
" and "
I'm looking forward to the scene where all of us play music together.
"
According to a source, many of Japan's top artists will be making
cameos in the drama as themselves, and cameo offers have also been made
to the cast of the Korean version. Jang sent the message, "
I'm very
happy that it is being remade. I am especially looking forward to what
kind of character Tamamori-san will create for the role that I played
."
Source:
Sanspo
Credits:tokyohive.com